Since the P5+1 negotiations concluded on Monday 12-JUL-2015 with a signed Iran Nuclear Deal, there has been a lot of press over the last week lining up with why it is good or bad.    The President and Secretary of State have had press interviews pushing their line that this is the best deal negotiable and that the only alternative was war.  Their compelling event is that the sanctions in place were starting to wear thin and would not hold out for better negotiations.  Whether this is true or not is up for debate.  The item that I am most interested in is whether this deal is really good or bad.  To do so, one needs to look at the actual document, which is available on the Washington Post site at:
The meat of the agreement starts on page 6.  The first page immediately starts to talk about types of centrifuges and that Iran's allowance will be purely in an R&D capacity, for peaceful purposes only.  Starting on page 11, the agreement lists the sanctions which are to be lifted.  The document continues with an implementation plan and dispute resolution mechanism followed by annexes starting on page 21 through 159.  The annexes are were a lot of details are hidden, but there are some significant items of interest in the early section, namely:
Iran keeps all of its currently disclosed nuclear facilities, including the Arak Heavy Water facility and Underground Fordow Facility.
There is a reduction in the number of centrifuges, but Iran gets to continue working with more advanced centrifuges and can increase their usage after 10 years.
Creation of new facilities is restricted to 15 years, specifically for Heavy Water types that would be needed for Plutonium development.  Why not forever?
Sanction relief is quite exhaustive and far reaching (both snap back penalties and reintroduction unrelated to nuclear transgressions).
While the dispute resolution looks reasonable from a mediation point of view, there really is no teeth in terms of penalties.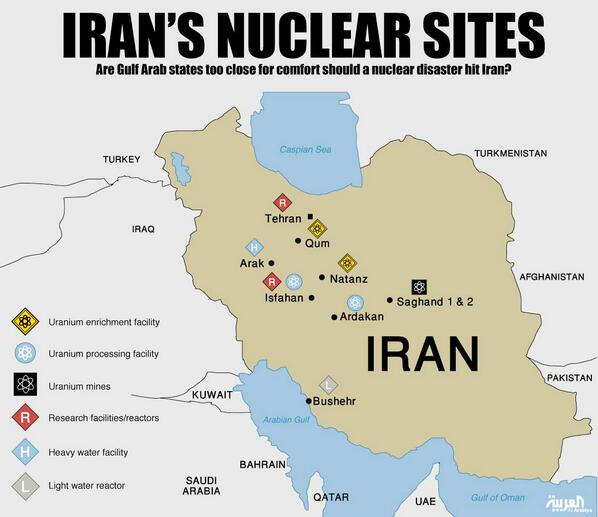 So, the question is 'Why is this a good or a bad deal?'  In order to answer this question, we need to put it in context of the following outcomes:
Iran follows the agreement and does not conduct nuclear weapons research, but they continue supporting its terrorism affiliates with their increased funds.  Considering Iran's past with hiding the development of past nuclear facilities (plural), this outcome is optimistic.  Nevertheless, it is important to expect that violence specifically related to Syria, Iraq and Yemen will increase when frozen funds can be accessed and sanctions are lifted.
Iran complies with agreement conditions, but conducts covert nuclear weapons research, development and production.  This is where the inspections are critical and why the agreement is written in its fashion.  So, we need to decide whether the inspections will catch such subterfuge or can we expect a double whammy.
Looking at the inspections, I have heard many people concerned with the 14+10 (i.e. 24) day wait period to inspect new facilities.  In my opinion, listening to the nuclear experts, the 24 day wait will not make much of a difference in terms of hiding radioactive reading.  I prefer a shorter duration, but I am more troubled by the following:
The first concern is related to the last paragraph of page 39, which is truncated.  It talks about the increase in number of inspectors to between 130 to 150.  The portion continued onto page 40 is what is concerning, which is "

allow the designation of inspectors from nations that have diplomatic relations with Iran, consistent with its laws and regulations

."  This basically means inspectors from much of the Western World are not permitted to inspect Iranian facilities.  Whether this is a fox in a hen house situation is unclear, as diplomatic relations with Iran have improved with the UK, Germany and others.  We just don't want be in a situation where we are questioning IAEA inspections.
The second concern is Access as described on pages 42 and 43.  If the IAEA wants access to a suspected covert facility, materials or activities, Iran can reject access.  Sub-paragraph 78 describes the 24 day duration for working through the dispute for access.  

While the Access description language seems reasonable, the concern is regarding disclosure of intelligence for justifying access.

 By disclosing some of the information gathered, we put our intelligence network at risk.  So, the likelihood of moving forward with a dispute for Access would require cost, benefit and risk analysis.
We can expect that illicit nuclear development will not likely be conducted at the known facilities that the IAEA will be regularly inspecting.  Considering we missed past nuclear facility creations, Iran is more in command of its future than the verifications in this deal.
Outside of the above items, the most troubling item is the sanction removal after eight years on ballistic missile development and sales, see pages 56 and 157 of the agreement.  Last time I checked ballistic missiles are not for peaceful purposes.  We have heard both President Obama and Secretary Kerry talk about how this agreement only focuses on the nuclear program, so why would they include it as part of this deal.  I could understand letting it in if there was some sort of give back, like related to Iran's behavior in the Middle East or at minimum the release of 4 US prisoners.  A good talk about this subject can be found on Politico at:
In summary, there are a lot of risks and unknowns associated with this deal.  I personally feel that it would have been better to keep sanctions in place and negotiate a better deal. I don't think any deal that allows Iran to keep nuclear enrichment capabilities is a good deal, but I also realize that Iran would never accept dialing back their nuclear ambitions so far back.
Nevertheless, I feel people will pat each other on the back on the successful completion of the negotiations and the seemingly temporary breathing room on the nuclear front.  I'm sure many hawks will compare this feeling to Neville Chamberlain coming back from his negotiations with Hitler about the Sudetenland, or President Bill Clinton returning from his nuclear deal with North Korea.  Neither of these great political wins were quite successful in the long run.  The best article I have read on the deal is by Michael Koplow on his blog at:
In the end, I think the deal will be rejected by Congress and President Obama will use his veto.  It is unlikely the Republicans will garner enough votes to override the President's veto.  So, this deal will move forward and the Middle East will become an even hotter place as we approach Implementation Day.